Remembering Barbara B. Blum

1930 - 2012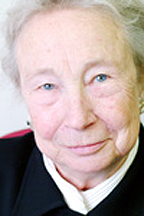 Figure 1: Barbara B. Blum
The staff of the National Center for Children in Poverty mourns the passing of Barbara Bennett Blum, who died October 6 of natural causes, at the age of 82.
"Barbara Blum was the kind of dedicated, life-long professional who perfectly embodied the devotion to America's children and families that all of us – researchers, policy analysts, and professional staff – at NCCP have strived to emulate since our very beginning as an organization," says Renee Wilson-Simmons, DrPH, director of NCCP. "Organizations like ours simply could not exist without people like Barbara, who possessed the vision, passion, and determination to make a difference in the lives of the most vulnerable among us."
Judith E. Jones, clinical professor emerita, and founding director of NCCP, says of her passing:
"Barbara's enthusiastic response to my request to serve as chair of the Council of Advisors of the fledgling new organization helped set the stage for its successful creation. Over our time together her support and commitment to the Center's child and family goals were invaluable assets that still remain valid today, twenty-three years later."
J. Lawrence Aber, PhD, who served as director of NCCP during the early years of Barbara's tenure at NCCP, says:
"She was a truly remarkable leader whose work over the decades spanned the worlds of direct services to children and families, child advocacy, social service administration, public policy, rigorous policy research and philanthropy. After several distinguished careers in the service of children, she moved to NCCP as a senior fellow in the late 1990s. The nation will miss her as a leader who got important things done for children and families."
Barbara directed NCCP's Research Forum on Children, Families, and the New Federalism from 1997 through 2005. She had served as an advisor to NCCP up until the time of her death. From 1986 to 1996 she served as president of the Foundation for Child Development, and from 1982 to 1986, as the president of Manpower Demonstration Research Corporation. She had also served as president of the American Public Welfare Association (now the Association of Public Human Services Association).
As commissioner of the New York State Department of Social Services from 1977 to 1982, Barbara directed the public assistance, Medicaid, and social services programs. During her tenure, she was responsible for the development of community work experience programs, the creation of alternative services to prevent nursing home care, and the implementation of the first large-scale management information systems for welfare, Medicaid and social services. Additionally, she directed the implementation of the New York State Child Welfare Reform Act of 1979, which mandated systemic shifts away from foster care placement and toward the provision of family support services. Her appointment as commissioner followed more than a decade of service to New York State in the areas of mental health, mental retardation, and social services.
Barbara is survived by her husband, Robert M. Blum; their four children: Stephen, Jonathan, Thomas and Jennifer; and their five grandchildren: Rebecca, Max, Bennett, Graham and Melissa Blum. Barbara's association with NCCP has left an indelible mark on all of our work helping children and families in need. She was a trusted colleague and a dear friend to us all.